Welcome to Englewood Housing Authority
---
Englewood Housing was founded in 1976. The first building to be constructed was the Vincente K. Tibbs Senior Citizen building at 111 West Street in 1976 consisting of 152 units of efficiency and one bedroom units. In 1981 Westmoor Gardens, a section 8 Multi-Family Housing Complex, was constructed for 64 families.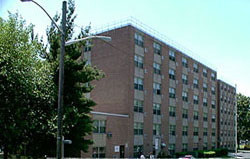 In 1991, the Housing Authority acquired 167-169 Morse Place, a four family structure with four units. In 2001, the Housing Authority purchased 115 Humphrey Street consisting of 9 units primarily for Section 8 qualified senior/disabled individuals.
Funding to maintain these properties comes primarily from the federal government directed at low and low-to moderate income families. Housing Authority policies and procedures including, but not limited to, Admissions and Occupancy, Grievance Procedures, Section 8 Administrative Plan, Procurement Policy and Rules and Regulations are available for public review at 111 West Street, Englewood, NJ 07631.
To request copies of Housing Authority documents, and in compliance with the Open Public Records Act (OPRA), please complete the required form.
PUBLIC NOTICE
ENGLEWOOD HOUSING AUTHORITY
PHA Annual Plan FY2017
NOTICE OF PUBLIC HEARING
 The Englewood Housing Authority presents its proposed Annual PHA Plan for 2017 to the citizens of Englewood Housing for a 45 day public review and comment period, September 2, 2016 through October 17, 2016.  The  proposed Annual PHA Plan for FY 2017 the required attachments and all information relevant to the public hearing will be available for review at the Englewood Housing Authority Administrative Office located at 111, West Street, Englewood, New Jersey 07631.
All are invited to present their comments at a public hearing held on Thursday, September 15, 2016 at 5:00 P.M. rather than Friday, September 9, 2016 at 5:00 P.M. in the community room of the Tibbs Senior building at 111 West Street, Englewood, N.J.
Your comments are welcome and be addresses to:
Domingo Senande, Executive Director
111 West Street
Englewood, N.J. 07631
Phone (201) 871-3451
Fax (201) 871-5908
TTY (201) 871-8951
All public comments that are received will be responded to, and both comment and response will be included in Annual Plan for FY2017 to be presented to the U.S.